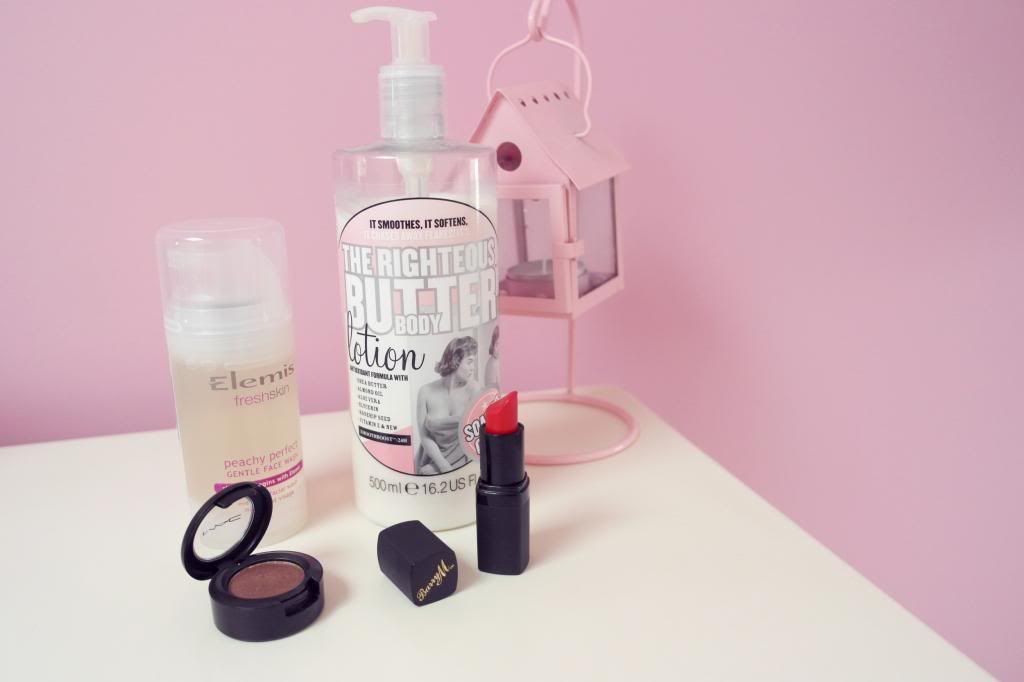 'Currently Loving' is a new feature here on Thumbelina Lillie. In the first few months of my blog, I wrote 'Monthly Favourites' posts, but as time went on I found myself stuck for favourites or wanting to repeatedly include certain products. 'Currently Loving' is going to be a similar feature where I tell you about products I'm enjoying but is not going to be as frequent. Enjoy!
The cold weather has meant my skin is in need of lots of moisturisation to keep it feeling smooth. Enter Soap & Glory's 'The Righteous Butter Body Lotion'. A while ago I featured The Righteous Butter in my Soap & Glory Picks post and this is very similar. However, this isn't as rich and has a lighter consistency; Enabling it to sink into the skin quicker but still leave it feeling supple. Perfect for if you're moisturising in a rush!
I received the Elemis Face Wash* in my Cosmopolitan Goody Bag and was really excited to give it a try. With a handy and hygienic pump dispenser, I've been using this every morning to cleanse my face & get rid of any overnight nasties. It's gel consistency lathers up slightly which I'm not overly keen on but this doesn't leave my skin feeling dry and helps to prep it for the day.
Woodwinked was my first MAC eyeshadow purchase due to the hype surrounding it; A beautiful coppery shade with a golden shimmer running through it. This has been great for wearing in the Autumn due to all the beautiful hues this season brings. I've been applying a light wash of the shade all over the lid with lots of coats of mascara and I bloomin' love it.
Red lips are my calling and I've been hunting for a cheap and cheerful lipstick for everyday wear. Barry M's Lip Paint in 121 really is a true red and has fit the bill perfectly. Even though the quality isn't as good as say a MAC Lipstick, for £4.49 I've been wearing this a hell of a lot lately. It's been featured on my lips in many of my recent Instagram pictures.
Please let me know in the comments if you have used any of these products before and what your thoughts on them are! I'd also love to know what you've been using lately – C'mon, recommend me some things. Thank you for all the birthday wishes too – I had an amazing weekend and was well & truly spoilt!